About Intercom in English
What is Intercom?

Intercom is a communications consultancy primarily concerned with communications strategies and texts of all kinds. Intercom's client base mainly consists of large Danish and international companies.
Over the past five to eight years Intercom has serviced companies such as: Assist Search & Selection, Dansk Automobil Sports Union, Dansk Foto Agentur (Nikon), Dansk Motor Union, Dansk Shell, Matinique (Danish fashion company) Mitsubishi Motor Sales Danmark, Nikon Nordic, Publicis (French multinational advertising agency) Research International, Scanbox Entertainment (multinational film distributor), Stadium Denmark (Nordic sports chain), Toyota Danmark and many more.
As a sideline, Intercom's owner Michael Eisenberg has written a highly successful book, »Skriv dansk der dur« (Business Writing That Works), published in 1994, and later developed the software program CommXpert™, published in 2003.
Intercom is recognized by major Danish companies for its ability to communicate complex problems in a clear and straightforward manner that the target group can easily understand and relate to; the company's services are thus often used in specialized areas in which it would not be cost-effective to employ traditional advertising agencies or PR agencies.
Who is Michael Eisenberg?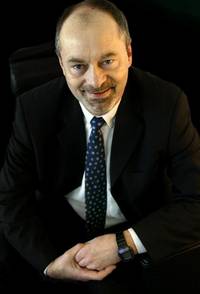 Michael Eisenberg was born in 1950 in Copenhagen, Denmark. He holds an MA in Danish Language and Literature from the University of Copenhagen, with a minor in History. Thesis: Public Discourse and Liberty of Speech.
Accomplishments:
In 1974 and 1985 Michael Eisenberg was Danish Rally Champion. He has driven rallies with, amongst others, the Audi Works Team and the Ford Works Team.
1982-92: Employed by Dansk Shell (Royal Dutch Shell Group), among others as General Manager of a Shell subsidiary.
1994: Published the book "Skriv dansk der dur" ("Business Writing That Works") with Borsen Publishers. It achieved excellent reviews and sold 10,000 copies in three years, reaching 2 per mille of the Danish population. What they all say.
2003: Published CommXpert™ (in Denmark called "LærSelv® Skriftlig Kommunikation" / "Teach Yourself Written Communication"), a software application for efficient and goal-oriented business communication. It was published by Borsen Publishers, part of the Nordic Bonnier publishing group.
Michael Eisenberg enjoys driving, photography, swimming, running and most other outdoor activities.
What is CommXpert™

Danish communications firm Intercom has invented a new software application, CommXpert™, which can enable all computer users, regardless of their native language, to create better and more powerful communication in which there are two winners: the sender and the recipient.
It was launched in 2003 by Borsen Publishers and immediately received excellent reviews.
How are the reviews?
Berlingske Tidende (Denmark's second largest morning newspaper)
Headline: "The indispensable new office tool"
Secondary headline: "A Danish PR consultant has written a piece of software that deals with everyday business communication. It ought to be part of Microsoft Office, but for now, it's available only as a separate application."
"The problem of written communication has now been dealt with in an original and thoughtful manner by Danish PR consultant Michael Eisenberg, and I would like to say straight off that the result is so good that it ought to be a mandatory tool, maybe a part of Microsoft Office."
Rating: 5 stars out of 6 (Author's note: The last star would also have been awarded, according to the reviewer, but for the "unsexy" Danish brand name of the program. The brand name was of course chosen by the publisher, Borsen, not by the author.)

Jyllands-Posten (Denmark's largest morning newspaper):
"Michael Eisenberg writes in an easy-to-understand style and provides good advice on how to create a message. You can gain valuable tips while using your word processor on the computer."

Dagbladet Borsen (the Danish "Financial Times")
"Exploits the interactive options very well. A good tool. The strength of this application is its practical functionality in daily use."